●Features
■ Very low Outgassing rate of 10-11 Pa・m3/sec m2 (less than that of stainless steel)can be obtained with low temperature baking at 150℃.
■ Lightweight design (approximately 1/3 the weight of stainless steel).
■ Completely non-magnetic chambers possible.
■ By applying EL-processing, etc. to the Vacuum chamber surface, the chamber can be used for Ultra-High or Extreme-High Vacuum.
■ Very short start-up time from a virgin chamber (1/2 that of stainless steel).
■ Due to high heat conductivity, an uniform internal temperature can be obtained.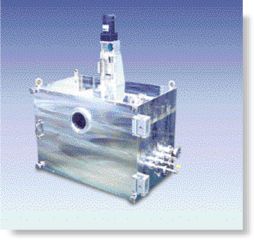 ■Vacuum actuation durability test machine